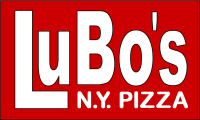 Welcome to LuBo's
We know a traditional New York style thin crust pizza is hard to come by, so stop by LuBo's NY Pizza and satisfy your pizza cravings. Our commitment to quality translates into the highest standards for food, service, atmosphere and value; we are the best above the rest.
Hurry in and enjoy some of the best food in town. We're waiting for you!
Our Menu
LuBo's NY Pizza has built an excellent reputation of providing a dining experience that pleases all your senses. Our extensive menu selections are prepared with only the finest ingredients. As a result, our meals are tasty, well presented, and reasonably priced.
Our full menu is available online. Call ahead for carry out: (303) 693-9196.
Testimonials
"One of the best authentic NY style pizza places I've ever found. LuBo's is our regular Friday night pizza and we are never disappointed." -Shannon B., Aurora, CO
"One of my favorite local places! Great thin crust (which seems to be impossible to find these days)! I've never had a bad experience here." -Michael M., Aurora, CO
Our Location
LuBo's NY Pizza is on the NE corner of Parker and Orchard. Show map
From 225, take the Parker exit and go South on Parker to Orchard. Turn left on Orchard and then left again on Ida.
From E-470, take the Parker exit and go North on Parker to Orchard. Turn right on Orchard and then left on Ida.
Parties and Events
Bring the whole family as we have games for the kids and a private party room for reservations. It's perfect for birthdays, celebrations, and company parties.
We also have TV's for you sport junkies that need to catch the game and are in dire need of some good eats.
Connect

Like us on Facebook.

Follow us on Twitter.

Read about us on Yelp.